1-3 DAGARS LEVERANSTID & FRI FRAKT VID KÖP ÖVER 400 KR | 30 DAGARS RETURRÄTT |
[email protected]
Ny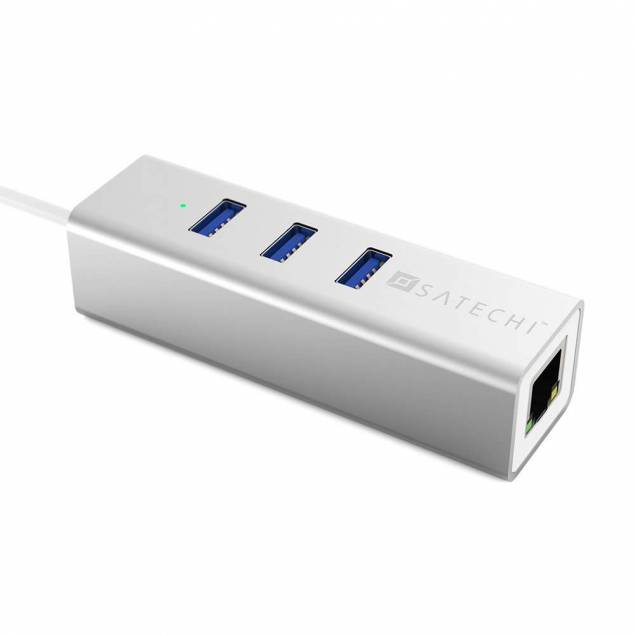 Visa större
Satechi USB 3.0 hub of aluminum - 3 ports + Network (RJ45)
Satechi USB 3.0 hub of aluminum - 3 ports + Network (RJ45)
#VE01-ST-2N1USB3A
Ny
Varning: Sista varan i lager!
Tillgänglig efter datum:
---
Sendes med DHL fra fjernlager
50.000 danskere bruger os
Satechi USB 3.0 hub of aluminum - 3 ports + Network (RJ45)?- Stylish USB 3.0 hub, all-aluminum- Extend your computer with 3 additional USB ports- Built-in RJ-45 network connector, perfect for the MacBook Air, etc.?With Satechi 2-in-1 USB 3.0 Aluminum 3 Port Hub and Ethernet port you not only get an additional 3 USB 3.0 ports to your laptop or desktop PC, but also the ability to connect your device directly to a wired network via a USB port. Designed to match the Mac, iMac and MacBook. Its silver metallic finish matches Apple computers perfect!?3 USB 3.0 portsThe expansion of 3 USB 3.0 ports eliminates potential problems with a network adapter occupying a valuable USB port. Connect up to 3 devices with only one USB port. With USB 3.0, this hub providing fast and stable data transmission of up to 5.0Gbps for hard drives, digital cameras, storage devices, smartphones, tablets, and other things. Backwards compatible with USB 2.0 and 1.1.?Fast USB 3.0 and Gigabit SolutionUsers of computers that are limited to 10 / 100Mbps Ethernet will experience at faster transmission when connected to a Gigabit Ethernet network using the Ethernet adapter. This Ethernet adapter supports 10/100 / 1000Mbps for high-speed, essential for file sharing, download, streaming, online video and other. Use this Ethernet adapter to participate in multiple networks, to replace the damaged network ports, add a physical network connection with a wireless network and exchange network. This Ethernet adapter is designed to connect USB devices, including printers to a network.?Compact designWith USB power supply and the lightweight and compact design makes it easy to carry with you in a laptop bag, backpack, purse or suitcase and do not take unnecessary space.?